Harrison Memorial Hospital's Laboratory Department Receives Accreditation from College of American Pathologists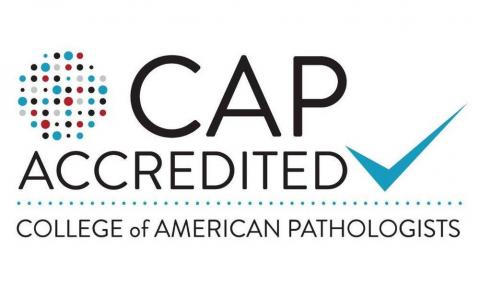 Harrison Memorial Hospital Laboratory in Cynthiana, KY, has been awarded accreditation by the Accreditation Committee of the College of American Pathologists (CAP), based on the results of a recent onsite inspection.
The laboratory's medical director, Patrick C. Crowe, M.D. was advised of this national recognition and congratulated for the excellence of the services being provided.  Harrison Memorial Hospital's Laboratory Department is one of more than 7,700 CAP-accredited laboratories worldwide.
The CAP Laboratory Accreditation Program, begun in the early 1960s, is recognized by the federal government as being equal or more stringent than the government's own inspection program.
During the CAP accreditation process, inspectors examine the laboratory's records and quality control of procedures for the preceding two years. CAP inspection also examines laboratory staff qualifications. CAP inspectors also examine laboratory staff qualifications, equipment facilities, safety program and record in addition, to the overall management of the laboratory.  This stringent inspection program is designed to specifically ensure the highest standard of care for all laboratory patients.
The CAP accreditation process occurs every two years. HMH has maintained CAP Accreditation since 2006.
"Once again achieving the College of American Pathologists accreditation reinforces our goal of continually progressing toward excellence in health care," said Sheila Currans, HMH Chief Executive Officer. "Our HMH Laboratory Department is committed to providing the most accurate and thorough results possible to our patients. And, the accreditation substantiates this commitment."
The HMH Laboratory Department is a full service lab providing quick, convenient service for lab screenings/testing.  The HMH outpatient laboratory is located on the first floor in the same area as the radiology and respiratory department, which is to your right after exiting HMH's front lobby. Private areas are provided for patients to have blood drawn by our qualified phlebotomists.  Operating hours are:  Monday - Friday from 7:00 a.m. - 6:30 p.m. and Saturday from 7:00 a.m. - 1:00 p.m.  In addition, HMH patients can experience the convenience of phlebotomy services in Carlisle. A phlebotomist will be available Monday through Friday from 7:00 a.m. to 12:00 noon.
The lab is staffed 24 hours, 7 days a week and makes every effort to accommodate patients.  Special arrangements can be made with advance notice.
Most lab testing is completed and returned to the patient's physician office in 24 hours or less. All screenings require a physician order to be completed.  The lab staff is made up of phlebotomists, medical laboratory technicians (MLT) and medical technologists (MT).
 
Tests and Screenings available are: CBC, or comprehensive blood count; CMP, or comprehensive metabolic panel; BMP, or basic metabolic panel; PT, or prothrombin time; this is commonly used for patients using blood thinners to ensure blood is thin enough; Extensive thyroid testing; Cancer markers, or indicators of progression or remission of disease like prostate and colon cancers; Lipid panel, cholesterol testing for HDL and LDL levels; Urinalysis; DNA collection and paternity testing collections. In addition, the HMH Laboratory Department offers microbiology testing called Polymerization Chain Reaction (PCR). PCR is the most recent state-of-the-art process whereby a small, single strand of DNA is isolated and then duplicated repeatedly until it can be detected. 
HMH is affiliated with Pathology and Cytology Laboratories in Lexington, KY.  Dr. Patrick Crowe from the group is the HMH lab medical director. 
About College of American Pathologists (CAP)
As a leading organization with more than 18,000 board-certified pathologists, the College of American Pathologists (CAP) serves patients, pathologists, and the public by fostering and advocating excellence in the practice of pathology and laboratory medicine worldwide. The CAP's Laboratory Improvement Programs, initiated 65 years ago, currently have customers in more than 100 countries, accrediting 7,700 laboratories and providing proficiency testing to 20,000 laboratories worldwide. Find more information about the CAP at cap.org.
About Harrison Memorial Hospital
Harrison Memorial Hospital, located in Cynthiana, KY, is a community-owned, not-for-profit, 61-bed hospital, established in 1906.  It offers a full range of services and an exceptional staff.  HMH has an outstanding 16-member active staff, with more than 100 physicians on consulting staff.  Harrison Memorial Hospital is considered by its peers as a progressive entity in its regional area.