Heart Care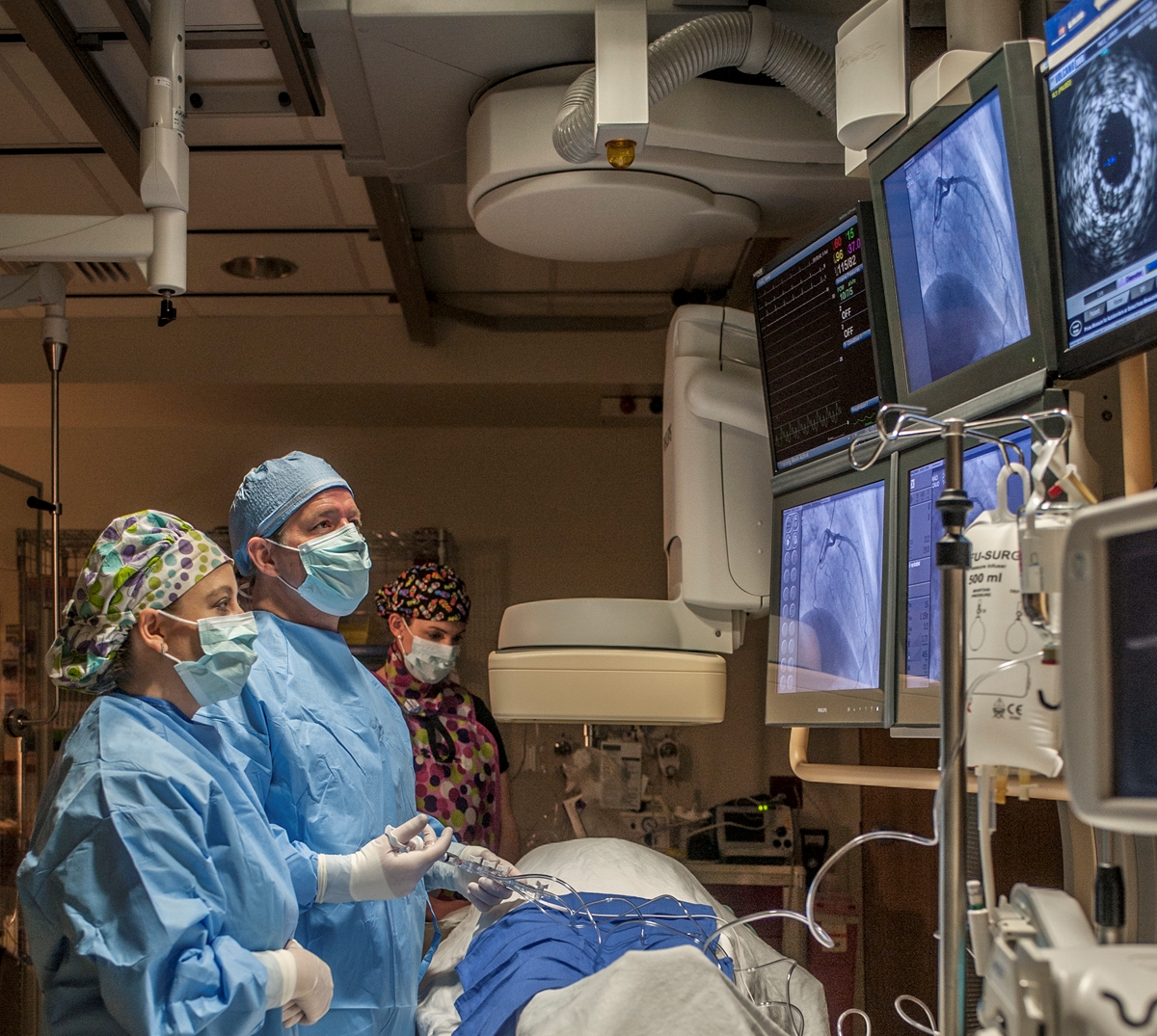 Do you know your risk for heart disease?
Start Cardiac Risk Assessment Quiz
Interventional Cardiology Services
When it comes to cardiac intervention, precious minutes can save lives.
That's why Harrison Memorial Hospital offers diagnostic and interventional cardiology services close to home. Our cardiac catheterization lab allows our two cardiologists to provide a multitude of diagnostic and interventional procedures here in Cynthiana.
Communication and physician consultation is key to our success.
Our Picture Archiving Communication System (PACS) allows us to provide real-time medical testing results to other physicians worldwide. This gives doctors the opportunity to read echocardiograms from any location, and multiple doctors can view the same image at once for the convenience and accuracy of physician-to-physician consultation.
What to expect at our cardiac catheterization lab
Our cath lab is equipped with digital imaging systems with flat screens which our physicians use to view the workings of the heart and blood vessels with great clarity. When diagnosing coronary artery disease, cardiologists can visualize the location and extent of blockages or other problems.
A diagnostic cardiac catheterization is a non-surgical procedure where a thin, plastic tube is inserted through an artery in the arm or leg. The tube is then advanced into the coronary arteries for the heart for diagnostic and/or therapeutic purposes.
An interventional cardiac catheterization is also non-surgical. If blockages are discovered, they may be treated by balloon angioplasty and stent placement.The cardiologist places a stent in the heart to open up the flow in the arteries.
We also perform peripheral studies, examinations of the arteries or veins, to check for blockages or other abnormalities. Peripheral studies are often done on arteries or veins in the head, neck, arms, abdomen and legs. If blockages are discovered, they may be treated by balloon angioplasty and stent placement.
Cardiac Diagnostic Testing We Provide
Exercise and Pharmacological Nuclear Stress Test
An intravenous line (IV) is inserted into your arm or hand and sticky patches (electrodes) are placed on your chest, legs and arms. The electrocardiogram records the electrical signals that trigger your heartbeats. First, images will be taken of your heart at rest. As the test progresses, you'll begin walking and the speed and incline of the treadmill will increase. If you're unable to exercise adequately, you may be given a medication through your IV that increases blood flow to your heart muscle — simulating what exercise does — for the test. A radioactive dye is injected into your bloodstream through the IV. Then, after you've exercised or been given medication to stimulate your heart, you'll receive more radioactive dye through the IV. A scanner similar to an X-ray machine will create images of your heart muscle. The two sets of images allow your doctor to compare the blood flow through your heart while you're at rest and while your heart is pumping harder as a result of exercise or medication.
Echocardiogram
An echocardiogram uses sound waves to produce images of your heart. This test allows your doctor to see your heart beating and pumping blood.
64-slice CT scanner
Our 64-slice CT scanner provides leading-edge technology for the evaluation of coronary and other arteries for blockages. This CT scanner is vital in viewing coronary arteries. With quick response, our 64-slice CT scanner completes a scan of coronary arteries in roughly five seconds, about the time of five heartbeats. All done with superb  resolution, our CT scanner also reduces the radiation dose to our patients. We're able to view the heart, check blood flow and other heart functions, and view the mitral valves.
Electrocardiogram (EKG)
An electrocardiogram (also called EKG or ECG) records the electrical activity of your heart through small electrode patches attached to the skin of your chest, arms and legs. Your doctor uses the EKG to: assess your heart rhythm, diagnose poor blood flow to the heart muscle (ischemia), diagnose a heart attack, and evaluate certain abnormalities of your heart, such as an enlarged heart.
Trans-Esophageal Echocardiogram, or TEE
A Trans-Esophageal Echocardiogram is an ultrasound performed from inside the esophagus to view the inner workings of the heart.
Tilt Table Test
During the test, you lie on a table that is slightly tilted upward. This test measures how your blood pressure and heart rate respond to the force of gravity.
Holter Monitor
This is a portable device that records the rhythm of the heart continuously by means of electrodes attached to the chest. Your doctor may ask you to wear it, typically for 24-48 hours, to help assess your heart health.
Event Monitor
Whereas a Holter Monitor records heart rhythms continuously over a 24- to 48-hour period, an Event Monitor records intermittently over a few weeks or months. This is necessary, because some patients may only show symptoms of a heart problem infrequently and unpredictably.
Implantable Event Monitor
The battery lasts three years, but may be removed sooner. It is more convenient for patients than external monitors, if issues are undetected with Holter monitoring.
The Coumadin Clinic
For patients prescribed the blood-thinning drug Coumadin, we offer our Coumadin Clinic. We take a multidisciplinary approach, where pharmacists and dietitians work hand in hand with our cardiologist to ensure our Coumadin patients are well care for. Our patients and their dosages are monitored closely to avoid bleeding or hemorrhaging complications. Our HMH pharmacists routinely check a patient's INR (international normalized ratio) – a test which helps standardize the reading of prothrombin time. Then, dosages are adjusted as needed. What these patients eat can affect the interaction with Coumadin. So we offer registered dietitians to adjust the patient's diet to maximize the drug's effectiveness. Insurance often covers the cost of the Coumadin Clinic.
Our Team of Cardiology Professionals
Matthew Shotwell, M.D., is an interventional cardiologist who specializes in pacemakers, defibrillators and in performing cardiac catheterization procedures. He is a graduate of University of Kentucky College of Medicine, Lexington, KY. He completed his residency in internal medicine at University of Cincinnati Hospital, Cincinnati, OH. He then completed a fellowship in cardiovascular medicine from University of Cincinnati Hospital. He is board certified in interventional cardiology, cardiovascular disease and internal medicine.
B.K. Srivastava, M.D., "Dr. B.K.", specializes in all aspects of diagnostic cardiology testing, including nuclear, echocardiography and stress tests. He also specializes in Congestive Heart Failure. He earned his medical degree from GSVM Medical College, Kanpur, India. He then completed a surgical residency at GSVM Medical College. Dr. B.K. completed a residency in internal medicine at Bridgeport Hospital affiliated with Yale University School of Medicine, Bridgeport, CT. Following his residencies, Dr. B.K. completed a fellowship at University of Cincinnati Medical Center, Cincinnati, OH. He is a diplomat of the American Board of Cardiology and is board certified in nuclear cardiology.
Our cardiology patients will also be seen by Ashley Black, APRN and Josh Hill, PA. Each are highly-skilled clinicians who have received educational and clinical training to function in all areas of cardiovascular care. For an appointment with Dr. Shotwell or Dr. B.K., call 859.235.3748.
ACC Chest Pain Center with Primary PCI Accreditation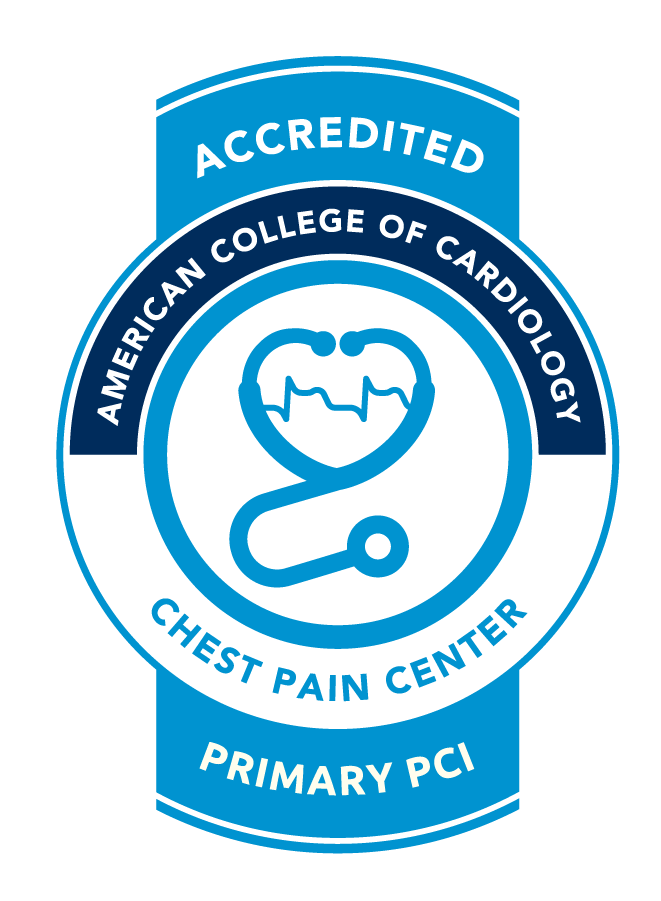 HMH was accreditated as a Chest Pain Center with Primary PCI Accreditation based on a rigorous onsite evaluation of the staff's ability to evaluate, diagnose and treat patients who may be experiencing a heart attack. Hospitals that have earned ACC Chest Pain Center with Primary PCI Accreditation have proven exceptional competency in treating patients with heart attack symptoms and have primary PCI available 24/7 every day of the year. As required to meet the criteria of the accreditation designation, they have streamlined their systems from admission to evaluation to diagnosis and treatment all the way through to appropriate post-discharge care and recommendations and assistance in patient lifestyle changes.
To learn more about Early Heart Attack Care, please see the links below:
EHAC-Early Heart Attack Care.pdf
To learn about Hands-Only CPR, please click here: https://cpr.heart.org/en/cpr-courses-and-kits/hands-only-cpr