Harrison Memorial Hospital Acquires Brown Ambulance Service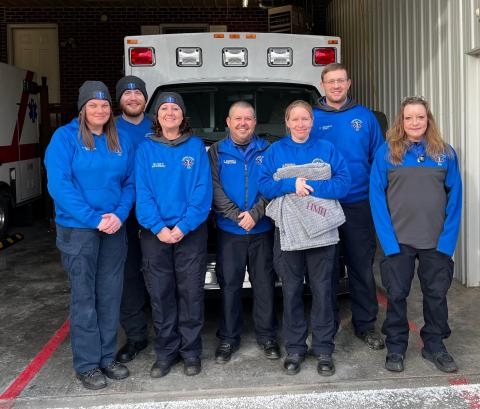 Harrison Memorial Hospital is pleased to announce the acquisition of the Brown Ambulance Service, effective February 1, 2023. The service will be operated as Harrison County EMS, LLC, wholly owned by Harrison Memorial Hospital.
"On behalf of HMH, I would like to take this opportunity to recognize the investment and hard work the Brown family and all the current and former employees of Brown Ambulance Service have put forth in providing a high-quality ambulance service for our area for more than fifty years," said Dr. Stephen Toadvine, HMH Chief Executive Officer. "I would also like to express my sincere thanks to the Brown Estate, the JMB Foundation, the Harrison County Fiscal Court, and the Harrison Memorial Hospital Board for coordinating the transition of this service to HMH. HMH exists solely to care for our communities—this will be an essential part of how we do that."
The Director of the ambulance service will continue to be Shane Bussell, EMT. Allison Bussell, EMT-P, will serve as Assistant Director. Shane and Allison have provided excellent leadership over the years and built a great team of emergency medical providers that will continue to serve Harrison County well. Shane Bussell will report directly to Kathy Tussey, MSN, RN, Chief Operating Officer & Chief Nursing Officer of HMH.
"It's very exciting to have the opportunity to work even closer with our EMS partners to enhance the care of our patients from first contact. Through our strong collaboration we will be able to provide a more streamlined approach to care from pre-hospital, emergency, inpatient and extended care if needed. This opportunity allows us the ability to provide our quality of care in the field setting and continue to enhance positive patient outcomes." said Kathy Tussey, Chief Operating & Nursing Officer. "I am thrilled that nearly all of the current members of the Brown Ambulance team are joining us at HMH. We are proud to be able to expand the way we care for our community and are looking forward to creating other ways we can serve."
The EMS system will encompass all of Harrison County. Harrison County Fiscal Court will continue to assist in the funding of ambulance services for the county.
For information about the services offered by HMH, please visit our website at www.harrisonmemhosp.com.