Hutchison and Hedges earn Certification as Rural Health Care Professionals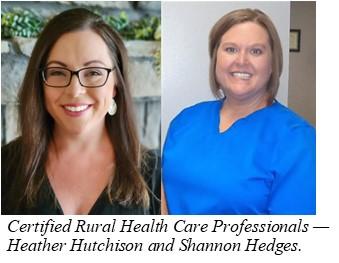 Heather Hutchison, HMH Director of Finance, and Shannon Hedges, HMH Primary Care Carlisle Patient Services Coordinator, are now Certified Rural Health Care Professionals (CRHCP). 
The certification is through the National Association of Rural Health Clinics. The course content includes administration, billing, coding, compliance and quality in regards to rural health clinics. Also, part of the course is the federal updates to the rural health clinic program. 
The National Association of Rural Health Clinics (NARHC) is the only national organization dedicated exclusively to improving the delivery of quality, cost-effective health care in rural underserved areas through the Rural Health Clinics (RHC) Program.
A native of Colville in Bourbon County, Hutchison graduated from Harrison County High School in 2003. She earned her Bachelor of Science Degree in organizational management with a minor in accounting from Midway University in 2008.
Hutchison started at Harrison Memorial Hospital in 2004 as a registration clerk. During her career at HMH, she has had the positions of cashier, payroll coordinator, accounts payable clerk, staff accountant and senior accountant II. In 2021, Hutchison was promoted to Director of Finance.
Hedges joined HMH in 2022 at the HMH Primary Care Carlisle office. A native of Carlisle, Hedges graduated from Nicholas County High School in 1998. Prior to joining HMH, Hedges worked for the Bourbon Medical Group at the Carlisle Clinic, a former rural health clinic, for 13 years. She earned her certified clinical medical assistant from National Healthcare Association. Rural Health Clinics are a special certification given to healthcare practices in underserved rural areas by the Centers for Medicare and Medicaid Services (CMS). More than 4,600 Rural Health Clinics (RHCs) in 45 states make up a key part of the rural healthcare infrastructure and help address health equity gaps in medically underserved rural communities to improve health outcomes for residents.
As a rural health clinic, the practice will have a special emphasis on health maintenance, preventative screening, multi-specialty medical services, patient experience reporting, and benchmarking. 
Currently, HMH has a rural health clinic in Cynthiana at the office on Pleasant Street. Plans are underway to have three new primary care offices to achieve recognition as rural health clinics. Those clinics are HMH Primary Care Carlisle, HMH Primary Care Falmouth and HMH Primary Care Main. 
"I want to recognize Heather and Shannon for their diligent work to become Certified Rural Health Care Professionals," says Dr. Stephen Toadvine, HMH Chief Executive Officer. "As HMH expands rural health clinics in are our market area, we will need experts in the field to provide guidance to our leaders and staff."