Clinic Pharmacy Joins Harrison Memorial Hospital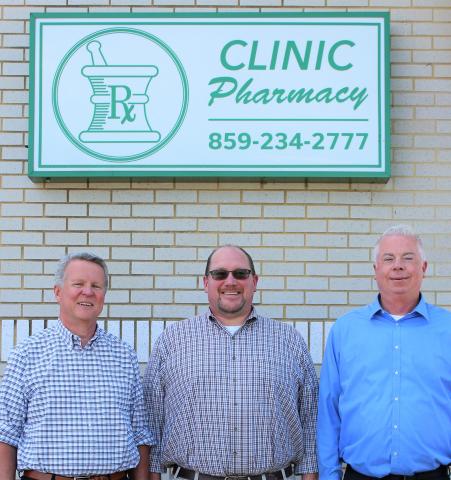 Harrison Memorial Hospital (HMH) is excited to announce that Clinic Pharmacy has become a part of the HMH family.
For more than two decades, Clinic Pharmacy has been a cornerstone of healthcare in Cynthiana. Clinic Pharmacy has dedicated itself to improving the health and well-being of the residents by offering full-service and personalized pharmacy services. 
Initially established in 1999 as Clinic East Pharmacy, the name was changed to Clinic Pharmacy under the ownership of Larry Wiley in 2001. In 2014, Matt Harney, PharmD., joined Wiley and later assumed sole ownership in 2020. 
With a team of 14 dedicated staff members, Clinic Pharmacy provides comprehensive pharmacy services. These include prescription medications, immunizations, multi-dose packaging, medication management, and even specialized offerings like diabetic footwear. Clinic Pharmacy is proud to offer a variety of immunizations, such as Flu, Pneumococcal, Shingles, Hepatitis B or Hepatitis A/B, Tdap, and TD. In addition, Clinic Pharmacy offers free delivery service within the city of Cynthiana.  The pharmacy also offers a "meds to beds program" where upon discharge from HMH, a patient may receive medications before leaving the facility.
The pharmacy will continue operating as Clinic Pharmacy, LLC, but will be under the ownership of Harrison Memorial Hospital.  Matthew Harney will continue his role with Clinic Pharmacy as the Director of Ambulatory Pharmacy. Harney, a Cynthiana native, graduated from Harrison County in 1995 and went on to obtain his Bachelor of Science degree from Georgetown College. He completed his Doctorate of Pharmacy from the University of Kentucky in 2003. Prior to joining Clinic Pharmacy, Harney worked for more than 10 years at independent pharmacies. Harney is married to Rachel who is the Director of Inpatient Pharmacy at HMH. They have two sons – Conner, a freshman at the University of Kentucky and Cooper, an eighth-grader at Harrison County Middle School.
"I am thrilled that Clinic Pharmacy is now part of HMH.  This partnership will enable us to provide expanded services for our community, and better coordinate care for the patients we serve," says Dr. Stephen Toadvine, HMH Chief Executive Officer. "We are elated to have Matt continue leading the pharmacy.  Many thanks to Matt and to David Asher, HMH Chief Strategy Officer, and to our HMH Board of Directors for their diligence in working through all the details to bring this to fruition."
The Clinic Pharmacy is conveniently located within the HMH Physician Office Building on the Ground Level in Suite G6. This central location ensures easy access for patients seeking their pharmaceutical needs. The pharmacy is open Monday – Friday from 8:00 a.m. – 6:00 p.m. and Saturday from 9:00 a.m. – 3:00 p.m. To reach Clinic Pharmacy, individuals can contact them at 859-234-2777.
Pictured is Dr. Stephen Toadvine, HMH Chief Executive Officer; Matt Harney, Director of Ambulatory Pharmacy and David Asher, Chief Strategy Officer.