Dr. Matthew Blake joins HMH Medical Staff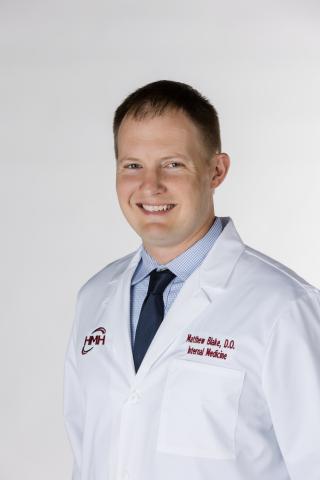 Harrison Memorial Hospital (HMH) is pleased to announce the addition of Dr. Matthew Blake, D.O., to its medical staff. Dr. Blake will be treating patients at HMH Primary Care Main Campus, joining Tara Wagner, APRN, in providing comprehensive primary care services. 
Internal medicine is a medical specialty that focuses on the diagnosis, treatment, and prevention of diseases in adults. Internists are often considered primary care physicians, as they are trained to handle a wide range of health issues that adults may encounter, from routine check-ups and preventive care to the diagnosis and management of chronic diseases. 
Dr. Blake obtained his bachelor of arts degree from Marshall University in Huntington, WV, and earned his medical degree from West Virginia School of Osteopathic Medicine in Lewisburg, WV. Dr. Blake further advanced his training by completing a residency in internal medicine at the University of Kentucky Residency Program in Bowling Green, KY. He is a member of the American College of Physicians. He also serves in the U.S. National Guard as a captain in the West Virginia Army National Guard as a WV Medical Command. Prior to that position, he served as a paratrooper for the 2nd Battalion – 19th Special Forces Group (Airborne) and Combat Medic. Dr. Blake also served in the United States Navy. 
"It is with great pleasure that we welcome Dr. Matthew Blake to our exceptional team at Harrison Memorial Hospital," said Dr. Stephen Toadvine, CEO of Harrison Memorial Hospital. "His expertise and commitment to primary care will undoubtedly contribute to the continued delivery of comprehensive, compassionate healthcare to our community."
Dr. Matthew Blake shared his enthusiasm about joining HMH, stating, "I am honored to be a part of the Harrison Memorial Hospital family and to serve the wonderful community of Cynthiana. I am committed to providing personalized, evidence-based care to my patients, focusing on their individual needs and promoting their overall well-being."
Dr. Matthew Blake is married to Dr. Ashley Blake, an HMH OB/GYN physician, and together they have two children. Their commitment to healthcare underscores their dedication to the community they serve.
As a primary care physician, Dr. Blake will be accepting new patients seeking comprehensive healthcare services. His office is conveniently located within the HMH Primary Care Main Campus on the ground level of the Physician Office Building in Suite G3 near the Clinic Pharmacy. To schedule an appointment with Dr. Matthew Blake, please call (859) 298-2888.
For more information in regards to HMH Primary Care, please visit our website at harrisonmemhosp.com.