Dr. Alberto Laureano joins HMH Medical Staff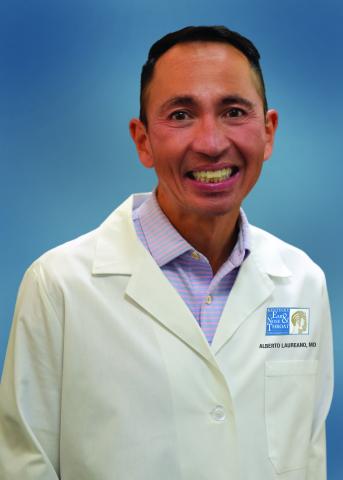 Alberto Laureano, M.D., has joined the medical staff at Harrison Memorial Hospital. An otolaryngologist treats conditions of the ear, nose and throat as well as performs head and neck surgeries.
Dr. Laureano graduated with his undergraduate degree from The College of William and Mary in Williamsburg, VA in 1983. He earned his medical degree from The Pennsylvania State College of Medicine in Hershey, PA in 1987.  In 1993, he completed his residency in otolaryngology/head and neck surgery/allergy from Southern Illinois University in Springfield, IL.
He is board certified and is a Diplomate of the American Board of Otolaryngology-Head and Neck Surgery. He is a physician with the Kentucky Ear, Nose and Throat practice, which is a part of the Lexington Clinic. 
Dr. Laureano will have a clinic focusing on ear, nose and throat, tonsillectomy, sinus problems, allergy, thyroid and salivary gland disorders, ear tubes, hearing problems/hearing aids and cosmetic rhinoplasty in both adult and pediatrics. He will be in the HMH Specialty Clinic on the first and third Tuesday and second and fourth Wednesday of each month. His clinic begins on November 10, 2021.
He is currently accepting new patients. To schedule an appointment with Dr. Laureano, call 859.235.3562.
For information about HMH's services, please visit our website at www.harrisonmemhosp.com.