HMH radiology receives ACR accreditation in Mammography Services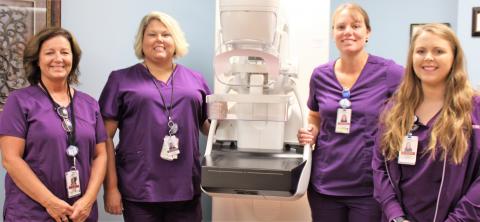 Harrison Memorial Hospital has been awarded a three-year term of accreditation in 3-D Mammography Services as the result of a recent review by the American College of Radiology (ACR). Mammography is specialized medical imaging that uses a low-dose x-ray system to see inside the breasts. A mammography exam, called a mammogram, aids in the early detection and diagnosis of breast diseases in women. The program is accredited for the FUJIFILM ASPIRE Cristalle with digital breast tomosynthesis (DBT) mammography solution. The mammography services have been accredited since 1998 and are re-accredited every three years. 
The ACR Gold Seal of Accreditation represents the highest level of image quality and patient safety. It is awarded only to facilities meeting ACR Practice Parameters and Technical Standards after a peer-review evaluation by board-certified physicians and medical physicists who are experts in the field. Image quality, personnel qualifications, adequacy of facility equipment, quality control procedures, and quality assurance programs are assessed. The findings are reported to the ACR Committee on Accreditation, which subsequently provides the practice with a comprehensive report that can be used for continuous practice improvement. 
The ACR, founded in 1924, is a professional medical society dedicated to serving patients and society by empowering radiology professionals to advance the practice, science and professions of radiological care. The College serves more than 37,000 diagnostic/interventional radiologists, radiation oncologists, nuclear medicine physicians, and medical physicists with programs focusing on the practice of medical imaging and radiation oncology and the delivery of comprehensive healthcare services. 
In 2022, HMH installed the FUJIFILM ASPIRE Cristalle with digital breast tomosynthesis (DBT) mammography solution. The 3-D breast imaging mammography solution is designed to improve image quality and streamline workflow.
According to the National Cancer Institute, 1 in 8 women may be diagnosed with breast cancer at some time during her life. Detecting breast cancer at its earliest stage improves survival rates. It is recommended that women begin screening mammograms at the age of 40 unless a person has a family history. A person may schedule a mammogram by calling 859-235-3600. 
The HMH Radiology Department plays a critical role in the accurate imaging, reading of images and diagnosis of patients, by offering a full range of services for both adults and pediatrics. The department is staffed by experienced radiologists, as well as radiology technologists. All radiology technologists are certified and licensed in his or her field of practice. 
To learn more about our radiology department, visit the HMH website at harrisonmemhosp.com or, contact the department directly at (859) 235-3559.