HMH radiology receives ACR accreditation in MRI Services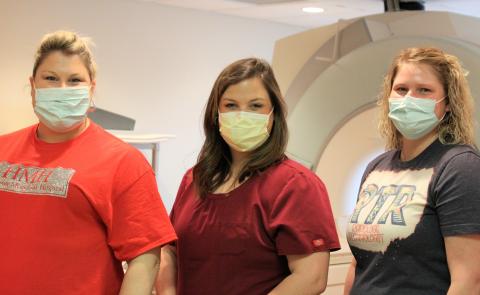 Harrison Memorial Hospital has been awarded a three-year term of reaccreditation in magnetic resonance imaging (MRI) as the result of a recent review by the American College of Radiology (ACR). MRI is a non-invasive medical test that utilizes magnetic fields to produce anatomical images of internal body parts, assisting physicians diagnose and treat medical conditions. The program is accredited for the Open-Bore Siemen's Magnetom Espree for adult and pediatric patients.
 
The ACR Gold Seal of Accreditation represents the highest level of image quality and patient safety. It is awarded only to facilities meeting ACR Practice Parameters and Technical Standards after a peer-review evaluation by board-certified physicians and medical physicists who are experts in the field. Image quality, personnel qualifications, adequacy of facility equipment, quality control procedures, and quality assurance programs are assessed. The findings are reported to the ACR Committee on Accreditation, which subsequently provides the practice with a comprehensive report that can be used for continuous practice improvement.
 
The ACR, founded in 1924, is a professional medical society dedicated to serving patients and society by empowering radiology professionals to advance the practice, science and professions of radiological care. The College serves more than 37,000 diagnostic/interventional radiologists, radiation oncologists, nuclear medicine physicians, and medical physicists with programs focusing on the practice of medical imaging and radiation oncology and the delivery of comprehensive healthcare services.
 
The Siemen's Magnetom Espree open-bore MRI is equipped with a 1.5 Tesla magnet and is located across from the HMH cardiac catheterization lab entrance on the HMH campus. Other modalities to have this accreditation are computed tomography (CT), mammography and nuclear medicine.
 
The HMH Radiology Department plays a critical role in the accurate imaging, reading of images and diagnosis of patients, by offering a full range of services for both adults and pediatrics. The department is staffed by experienced radiologists, as well as radiology technologists. All radiology technologists are certified and licensed in his or her field of practice.
 
To learn more about our radiology department, visit the HMH website at harrisonmemhosp.com. Or, contact the department directly at (859) 235-3559.