HMH Acquires New Low-Dose SCENARIA 128-Slice CT Imaging System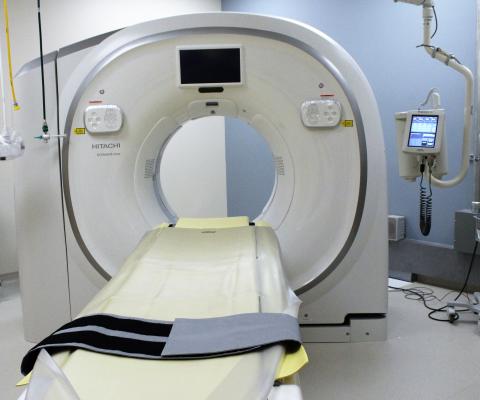 Harrison Memorial Hospital (HMH) has added Fujifilm Healthcare Americas' SCENARIA View lower-dose 128-slice Computerized Tomography (CT) imaging system to its list of diagnostic offerings.
A computerized tomography (CT) scan combines a series of X-ray images taken from different angles around the body and uses computer processing to create cross-sectional images (slices) of the bones, blood vessels and soft tissues.  A CT scan has many uses, but it is particularly well suited to quickly examine people who may have internal injuries from car accidents or other types of trauma. A CT scan can be used to visualize nearly all parts of the body and is used to diagnose disease or injury, as well as to plan medical and surgical treatment.
The SCENARIA View offers the latest technology in 128-slice CT, combining enhanced patient safety through advanced technology dose reduction, with broad clinical capabilities and enhanced patient comfort features for a wide range of applications. The new CT includes the latest technology in radiation dose reduction features, with an accommodating design that reassures patients. It also offers a broad range of clinical capabilities and features to meet the demand of today's diagnostic imaging professionals. Fujifilm Healthcare Americas has been a long-time pioneer of diagnostic imaging systems, with more than 1,500 CT and MR systems installed in the United States.
"By acquiring the new View CT system, it offers our physicians and our community access to new and advanced diagnostic imaging techniques," said Dr. Stephen Toadvine, HMH Chief Executive Officer. "HMH now has two CTs, with the latest being located in the Emergency Department. This will allow our providers better access for emergent cases, especially trauma and stroke patients."
HMH is excited to add the new 128-CT scanner to its already stellar state-of-the-art imaging technology. Other diagnostic imaging equipment at the hospital includes an open-bore MRI, a 64-slice computed tomography (CT) scanner, 4-D ultrasound equipment, 3-D mammography unit, nuclear medicine scanner, a bone density scanner, and digital radiography technology.
The HMH Radiology Department plays a critical role in the accurate imaging, reading of images and diagnoses of patients and offers a full-range of services for both adult and pediatric patients. The Department is staffed by experienced radiologists and radiology technologists.  All radiology technologists are certified and licensed in their fields of practice. The Department is also accredited by the American College of Radiology in several modalities.
Harrison Memorial Hospital has been providing treatment and care in the area for more than a century. Over time, the facility has expanded, and has acquired cutting-edge technology and partnered with physician specialists leading in their field to deliver high-quality healthcare in the community.
For information about HMH's services, please visit our website at www.harrisonmemhosp.com.