Gray and Gardner-Cox named to HMH Board of Directors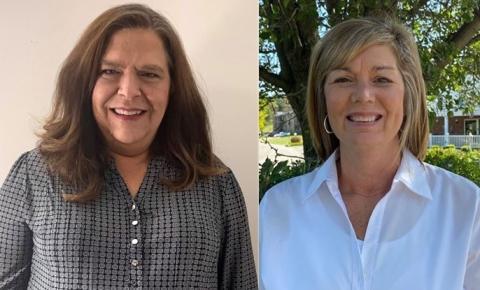 The Harrison Memorial Hospital Board of Directors will begin 2023 with two new members.  Angela Gray and Janelle Gardner-Cox, were unanimously voted as members by the board at the 2022 December meeting. 
Angela Gray, a native of Harrison County, has 29 years of experience in finance and accounting administration. She received both her Bachelor of Administration Degree with an emphasis in Accounting and her Master of Business Administration Degree from Morehead State University. 
During her career, she has specialized in the areas of cost analysis, budgeting/forecasting, process development and the integration of information systems for her employers. She currently serves as the Senior Manager of the North American Performance Reporting Group at Minova, a worldwide industry leader in ground support and geotechnical solutions for the mining and tunneling industries. 
Gray is the daughter of Mr. and Mrs. Jerry Brunker.  She has been blessed in life to enjoy the love and support of her high school sweetheart and husband of 32 years, James Carl Gray II. Angela and James Carl are the proud parents of a daughter, Mrs. Whitney Wiglesworth. 
   Janelle Gardner-Cox, Pendleton County, retired in March 2022 after 34 years of serving Kentucky Farmers. She was the County Executive Director for the Farm Service Agency, USDA, managing offices in Cynthiana and Falmouth, Kentucky, which serves Harrison, Pendleton, and Grant Counties.  
Gardner-Cox received her Bachelor of Science in Agriculture Economics from the University of Kentucky.  
She served as Chairman of the Pendleton County Library Board for 12 years and is a member and Past President of the Falmouth Rotary. She also served on the Kentucky Women in Agriculture Board as one of Farm Service Agency's representatives for many years.    
In her spare time, she enjoys working on the farm raising cattle and riding horses with her husband, Jeff Cox, and spending time with her children and grandchild. 
For 2023, Mr. Harland Hatter was elected to serve as HMH Board Chairman, replacing Mr. A. Patrick Darnell. Mr. Darnell will remain on the board as a member. The board also elected Mr. Wayne Conner to serve as HMH Board Chairman-Elect.