Hospital earns Trauma IV Center designation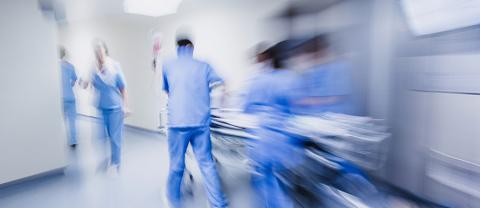 At HMH, we continually evaluate and improve our services to ensure the residents in our service area have access to vital medical services close to home. To add to the list of services continually upgraded to benefit patients, Harrison Memorial Hospital has been officially designated a Level IV Trauma Center by the Kentucky Trauma System. This designation also has been verified by the Commonwealth of Kentucky Cabinet for Health and Family Services.
As a Level IV Trauma Center, HMH has the ability to provide initial care and stabilization of traumatic injuries, while arranging transfer to a higher level of trauma care, if needed. The goal is to ensure all trauma patients are treated within the "golden hour" of injury. By following standards of care set forth by the state and by having pre-arranged transfer agreements with several Level I Trauma Centers, we ensure our patients at HMH received proper trauma care in a timely manner.
The application process began in 2014, when HMH Emergency Department Manager Christina Buckler helped establish a trauma program at HMH. Buckler, along with several physicians and management leaders, took the steps necessary to apply to the Kentucky Trauma System for designation.
On October 21, 2015, the Kentucky Trauma Advisory Committee conducted an on-site survey at HMH's Emergency Department. The Advisory Committee found no deficiencies with the HMH Trauma Program and recommended the Level IV Trauma Center designation.
"I am extremely proud of HMH for accomplishing Level IV Trauma Center designation," said Dr. Brady Reid, HMH Trauma Services Medical Co-Director. "This further demonstrates our commitment to provide the best quality care to our community."