Hospital expansion project well underway; positively impacts patients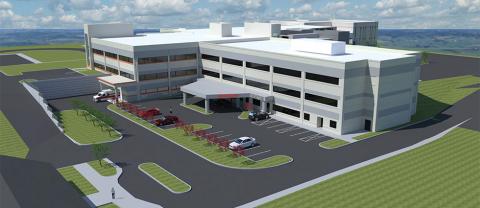 Over the past year, we have communicated the hospital's plan for a multi-million dollar expansion/renovation project designed to enhance the patient experience, while still allowing flexibility for future growth. Today, the project is in full swing, with our patients already benefiting from many of the planned changes. 
"We found ourselves continually struggling with the challenges of maintaining a building constructed in 1966. It didn't make good sense from a personnel and financial resource standpoint to continue to fight with plumbing, HVAC and electrical systems that were at the end of their life cycle. We used this as an opportunity to rebuild and enhance our services for the patient," said Sheila Currans, HMH Chief Executive Officer.  "Our hospital admini-strators and our board are determined to maintain our independence as a healthcare system. We feel the best way to do this is to provide a patient experience, both inpatient and outpatient, that is better than ever. This retains our loyal customers and, hopefully, attracts new ones."
      Below is a rundown of completed enhancements and improvements slated to be in place when the total project is finalized. Projected completion is fall of 2016.
A new 20-bed medical/surgical floor offering private room accommodations
A new urgent treatment center adjacent to the emergency department in hopes of reducing overutilization of the emergency department for non-emergent care
A new outpatient area designated solely for diagnostic testing (pulmonary function testing, EKGs, echocardiograms, other vascular studies, outpatient lab draws, nutritional counseling, and the anticoagulation clinic). This area is already completed.
First floor of Building A will become Hospital Administration; expected completion July 2016
Final phase will be demolition of first and second floors of Building A. Demolition will not occur until the new building will be ready to accept inpatients and sleep lab patients.  Expected completion is fall 2016.