Dr. Stacy Taylor-Hunt joins HMH Medical Staff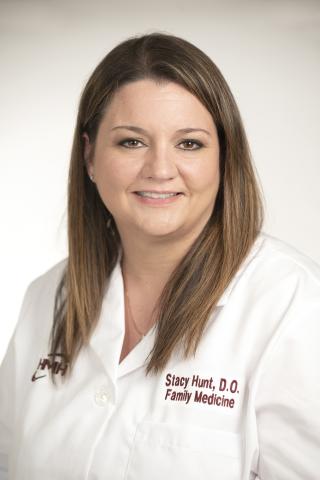 Harrison Memorial Hospital is pleased to announce the addition of Dr. Stacy Taylor-Hunt, primary care physician, to its medical staff. She will treat patients at HMH Primary Care Main in Cynthiana.
A primary care medical practice is the first place a patient will contact when he or she requires healthcare. A primary care provider offers a broad range of patient care services, including health maintenance, prevention, disease diagnosis and management, and overall healthy lifestyle promotion.
A native of Pikeville, Kentucky, Dr. Taylor-Hunt earned a Bachelor of Science degree and her medical degree from University of Pikeville College of Osteopathic Medicine. She completed an internship through the University of Kentucky-East Kentucky Osteopathic Internship program in Hazard, KY. And, she completed her residency through the University of Kentucky-East Kentucky Family Practice Residency program, Hazard, KY.
Dr. Taylor-Hunt has more than 15 years of experience in primary care medicine, working in Mt. Sterling and Winchester, KY, and most recently in Tampa, FL. She is board certified by the American Board of Family Medicine. She is a member of the American Academy of Family Physicians, as well as the American Osteopathic Association.
"To increase primary care physician services and to better meet the needs of our community, HMH decided to open a new primary care practice -- HMH Primary Care Main -- on our hospital campus," said Dr. Stephen Toadvine, HMH Chief Executive Officer. "Dr. Taylor-Hunt is a tremendous addition to our medical staff, hospital and community."
Dr. Taylor-Hunt is accepting new patients. HMH Primary Care Main is located on the ground level of the HMH Physician Office Building, Suite G3, near Clinic Pharmacy, on the campus of Harrison Memorial Hospital. Office hours are Monday through Friday from 8:00 a.m. to 4:30 p.m. All Medicaid plans and most Medicare plans are welcome. To schedule an appointment with Dr. Taylor-Hunt, please call (859) 298-2888.